Ngga berasa, sudah hampir 3 bulan kita harus #DiRumahAja untuk mencegah penyebaran virus COVID 19 di Indonesia. Ada yang bosan? iya.. ada yang produktif menyambut newnormal ? ada… for me, both are okay! mungkin sedikit jeda atau pause tidak akan menyakiti siapapun bukan?
Nah, mulai minggu ini, kebanyakan teman-teman pun sudah mulai masuk kantor. Termasuk tim Sustaination yang sudah mulai masuk dan beroperasi secara normal lagi, tentunya tetap menjaga jarak dan diri. Beberapa tips yang bisa dilakukan untuk mempersiapkan diri beraktivitas di #NewNormal
1. Menyambut New Normal dengan Bawa Bekal Sendiri
Kita semua tahu, kalau membawa bekal makanan dan snacks kita sendiri lebih repot. Yes… tapi membawa bekal makanan dan snacks di tempat makan kita sendiri tentu jauh lebih bersih! apalagi dalam kondisi #NewNormal seperti ini, sebisa mungkin kita menggunakan tempat makan dan juga peralatan makan kita sendiri karena sudah jelas kita bisa menjaga kebersihannya bukan?
2. Menyambut New Normal Bawa Botol Minum Sendiri
Sama halnya seperti tempat makan dan peralatan makan sendiri, membawa botol minum dan minuman kita sendiri sudah tentu akan sangat mengurangi resiko penularan COVID19. Suka minum kopi atau teh? Persiapkan sendiri kopi dan tehmu di tumbler atau botol minum tahan panas dari rumah. Suka minum air berlebih? persiapkan 1-2 botol besar untuk bekal minummu selama satu hari penuh. Dengan begini, kamu bisa tetap memenuhi kebutuhan air harian dengan tetap mengurangi resiko tertular virus COVID19!
Jangan lupa, bersihkan botol minummu setiap habis selesai digunakan yah!
3. Persiapkan Masker Pakai Ulang dan Cadangannya
Masker adalah barang WAJIB untuk menyambut new normal ! Pastikan setiap kali kamu keluar rumah, kamu menggunakan masker kain pakai ulangmu. Pastikan juga kamu membawa masker cadangan, karena masker pakai ulang kain kami rekomendasikan untuk diganti setiap 4 jam sekali. Simpan masker yang sudah selesai di pakai didalam tempat yang bersih dan tahan air, misalnya seperti wet bag. Hal ini berguna untuk mencegah kotoran, virus dan bakteri dari masker yang sudah kita pakai keluar dan mengotori barang-barang kita yang lain yah.
Jangan lupa untuk mencuci masker kain pakai ulangmu setiap selesai digunakan yah! Jadi penting untuk punya setidaknya 4 buah masker pakai ulang untuk setiap orang yah, supaya bisa bergantian waktu pemakaian dan pencuciannya.
4. Jaga kebersihan diri dengan selalu Cuci Tangan
YESSS… I repeat! cuci tangan sesering mungkin setelah berinteraksi dengan orang lain yah! Please, jangan bosen-bosen buat cuci tangan, karena cuci tangan dapat memutus penyebaran virus COVID19. Susah nemu sabun? Kamu selalu bisa membawa potongan-potongan kecil travel soap untuk berjaga-jaga. Kalau belum ada akses air bersih, kamu bisa gunakan natural hand sanitizer dengan kandungan alkohol tanaman sebesar 70% yah.
Selain menjaga kebersihan dengan cuci tangan, jaga juga kebersihan barang-barang pribadimu seperti laptop, handphone, kunci mobil/motor, meja kerja dll dengan menggunakan disinfectant natural yang tidak berbahaya bagi tubuh kita.
5. Hindari berkontak langsung dengan orang dan selalu jaga jarak
This is the most important part! I know that you miss your friends, me too! tapi, tolong bangett tunda dulu salaman, pelukan, apalagi cipika-cipiki! Tetap hindari kerumunan, jangan nongkrong atau kongkow-kongkow dulu deh yaaa kalau ngga perlu-perlu banget.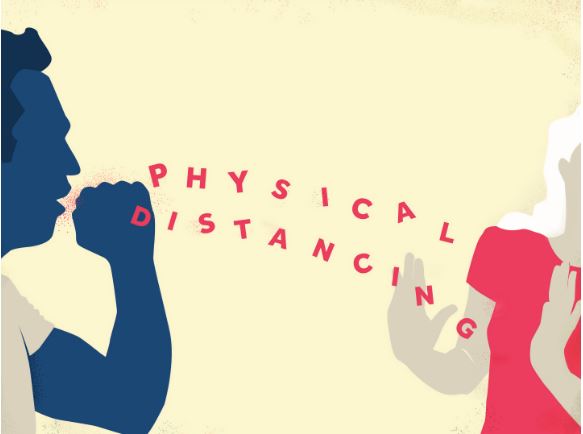 Kalau masih bisa #DiRumahAja, pastikan kamu tetap di rumah ya agar terhindar dari penularan virud COVID19.
---
Jadi gimana teman-teman? sudah siap untuk teh #NewNormal? atau kamu punya tips lain untuk menghadapi #NewNormal? share yuk di kolom komentar!